Wo du in Portugal am Strand campen kannst – Meine Top 5!
Portugal. One of the most popular places to escape for all the Nothern Europeans when it get's really cold from October on. And in summer the Mecca of all surfers to catch the waves of the Atlantic ocean. And I'm telling the truth when saying that this really is a place you should go to at least once in your life. For all the vanlifers out there is actually is a perfect country for living in a van. I can tell you that because me and Connie drove down there in November and December to try living in a van in Portugal.
As you can imagine, a country with such big coastlines is full of beautiful beaches ready to be discovered. Of course there are so many that you could probably stay one year to sleep at a different beach every night, but I will show you my 5 favourite spots south of Lissabon to park your van overnight and wake up with a wonderful oceanview.
Living in a Van at Praia da Samoqueira
This actually was a total suprise to us. We just drove down from Lissabon and stopped in the dark somewhere close to the road and the sea. In the morning we "quickly" wanted to check out where we had landed and ended up staying three hours at this beautiful beach – which we had completely to ourselves!!! The grey rock formations there extend to a few hundred meters and you can feel like an explorer finding hidden caves when it's low tide.
GPS 37.869291, -8.792505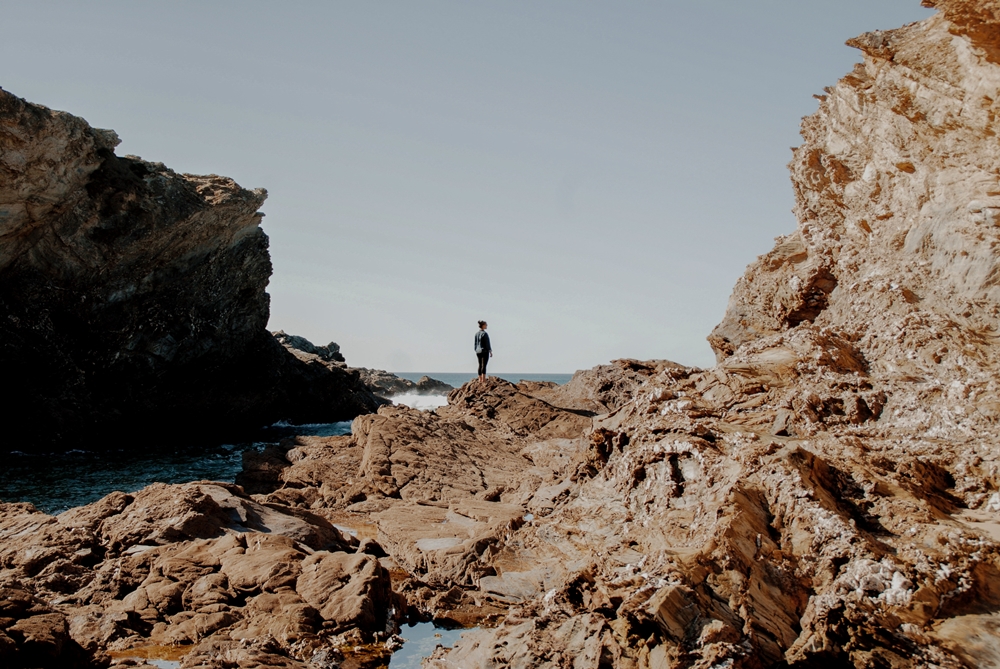 Living in a Van at Praia do Amado
This beach is in the South of Portugal in the Province of Faro. Of course it is also a famous beach for surfers, because of its width which offers a lot of space for many surfers. You can either park at the big parking lot which is next to the beach and enjoy the community of many people who are living in a van there, going for a surf in the moring. If you drive a bit further up the road to the north, you will get on top of the cliffs wher you will find a perfect place for sunrises and sundowns. Also, there is a restaurant for your morning toilet 😉
GPS 37.169062, -8.900719 (Parking lot)
GPS 37.173305, -8.907023 (Cliffs)
Just a bit south of there is also a beach that was recommended to us. Check out Praia da Cordoama GPS 37.099378, -8.942934 and tell me how it was 😉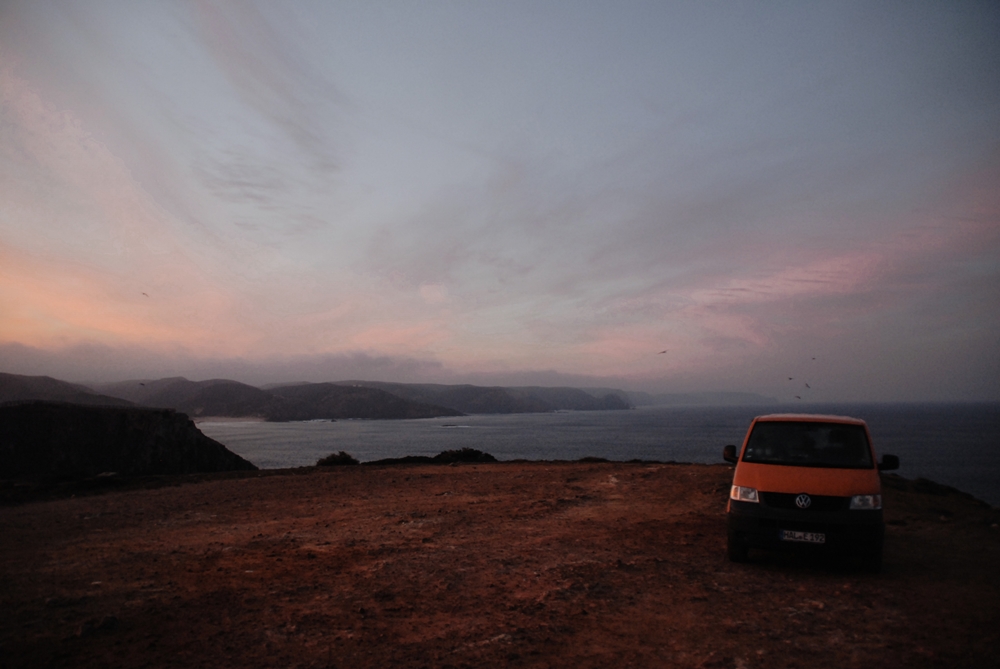 Living in a Van at Praia da Marinha and nearby
One of the most breathtaking beaches in Portugal was Praia da Marinha. You should definitely park in the parking lot on the cliffs and take those many steps down to find a beautiful narrow yellow beach with gorgeous rock formations and big waves. We found that is was not the best spot to sleep at, but there are some sandy and muddy roads leading onto the cliffs if you take the road back to the West, which lead to this crazy photo scene: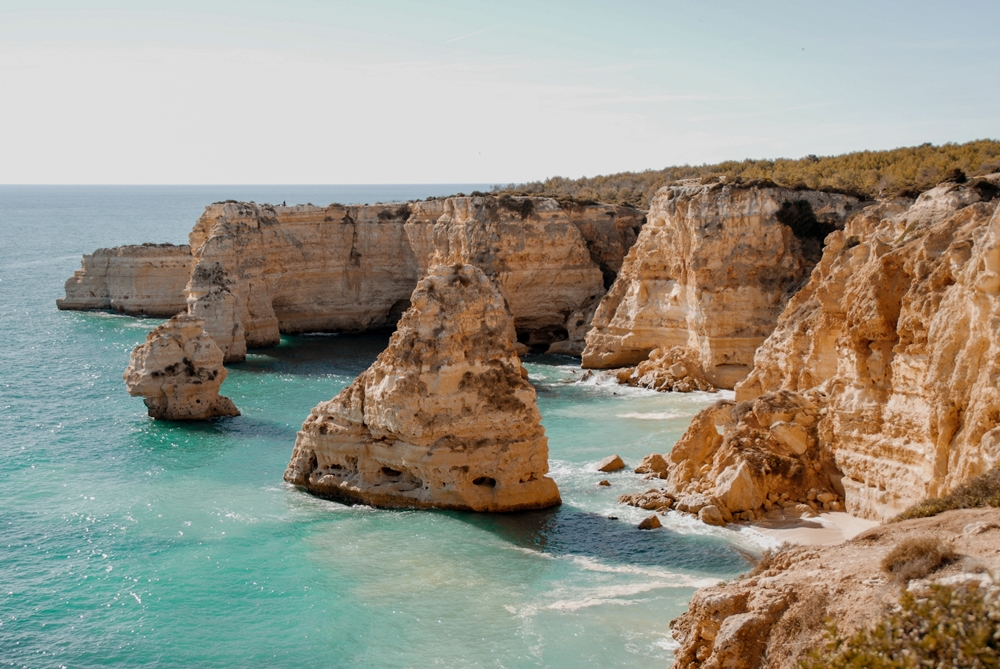 If the roads are too sandy or in our case too muddy, you can drive to another beach just 10 minutes away:  Praia do Carvalho. There you can park between the bushes on the cliffs and enjoy a great view. But here I explicitly advise you to leave in the early morning. We had a visit of the GRN at 9:30am. We did not get fined, but #pumpkinthevan is now registered somewhere in Portugal for illegal camping… Oooops.
GPS 37.086536, -8.429424
Living in a Van at Praia do Zavial
You can access this beach as well as the next two by taking a road down from Raposeira, east of Vila do Bispo. When our friend told us that he was "here at Zavial" we drove down there to see that he had already gone… But we found a cute beach with a paved parking lot for around 10 to 15 vans and a nice communty feeling. Most of them were surfers, naturally (imagine me doing the hang-loose-sign now).
GPS 37.047365, -8.872367
Living in a Van around Praia da Ingrina and Praia do Barranco
Just next to Praia do Zavial are two other beaches, the first one being Praia da Ingrina. You can drive there easily and take a one of the spots up the cliffs next to the beach. When we were there end of November the cliffs where spotted little vans here and there, which just proves that its a good spot for living in a van! Find your night spot somewhere betwee the low bushes and mingle with the vanlife community there!
GPS 37.046183, -8.883313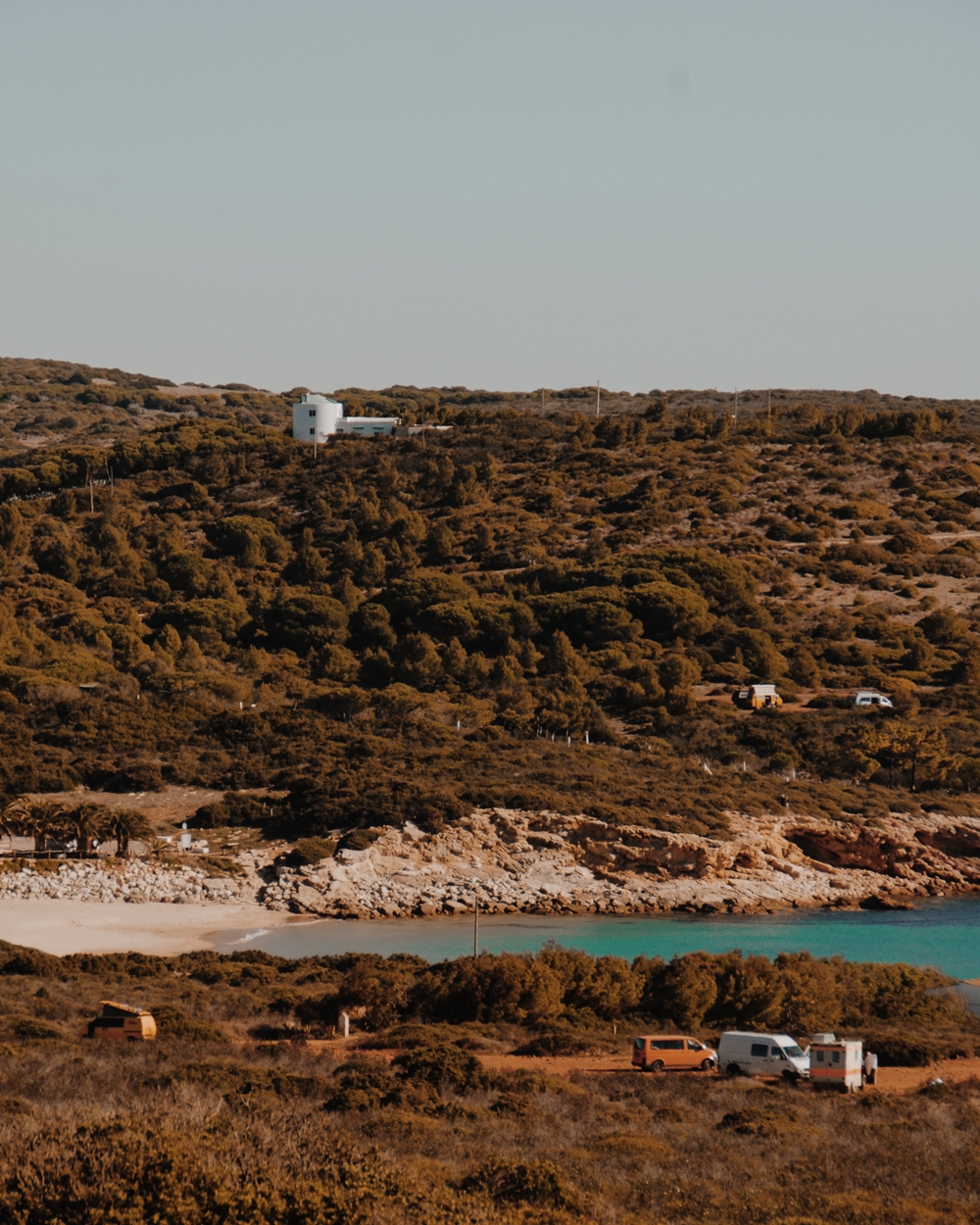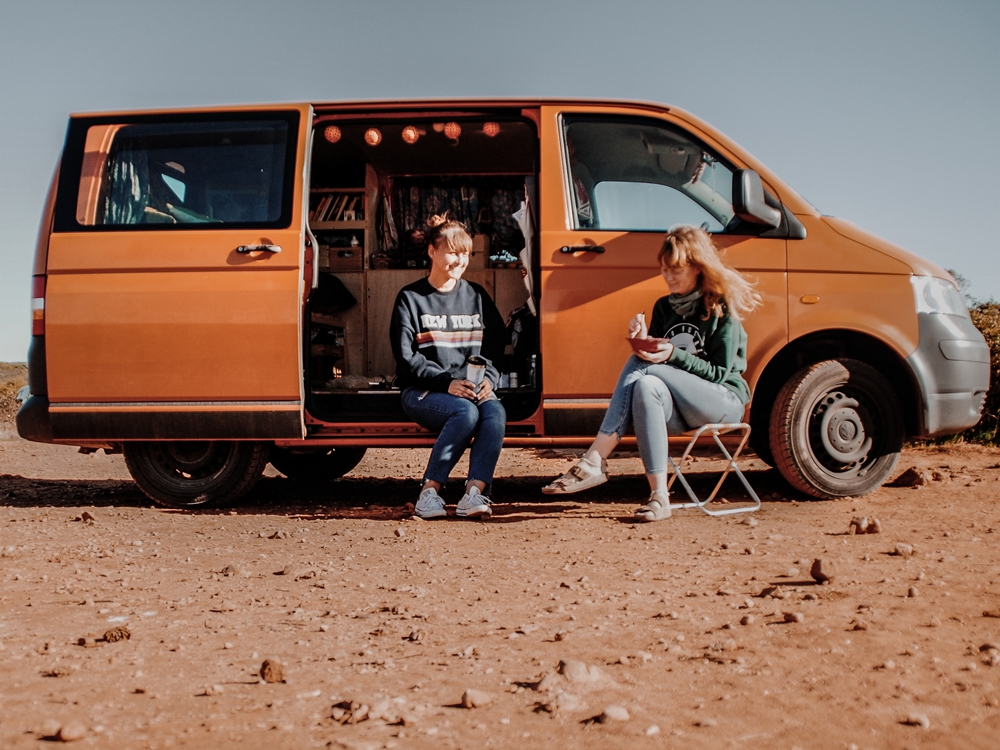 To get to Praia do Barranco is a bit more adventurous, as the road leading there is very rocky. We decided not to drive there, but everyone told us that it's worth it! Barranco has the reputation of being a hippie beach with a lot of open-minded green thinking people, if you know what I mean. But the good thing is, that you can also access the beach from your parking lot on the cliffs near Praia da Ingrina by walking a few minutes down the cliffs.
GPS 37.043403, -8.895809
So, these were a bit more than 5, but I hope you will find these recommendations useful! Living in a van in Portugal is beautiful. Tell me if you stayed at some of those beaches and if anything has changed! I'm always in need of a dose of Portugal 😉 
❀ ELLA